F.A. / F.Sc. Fee Structure for the year 2023-2024
(WITHOUT PRACTICAL FEE)
Sr. No.

Item

Amount

1.    

Admission Fee

2,745

2.    

Tuition Fee

16,710

3.    

I.D. Card

365

4.    

General Fund

7,945

5.    

Medical Fund

906

6.    

Magazine Fund

765

7.    

Board Registration + Exam Fee as prescribed by BISE Lahore

3,450

8.    

Department Development Fund

4,026

9.    

College Examination Fee

2,955

10.          

Transport Fee

600

11.          

Library Security (Refundable)

1,190

12.          

Sports and Fitness Fund

743

Total Rs.

42,400
Note:

1.    Fee for intermediate level is not refundable in any case
2.    Total Fee (Part-I) without Practical Rs. 42,400/-
3.    Practical fee will be charged Rs. 3820/- per subject, per annum for practical subjects only.
4.    Library Security will be refunded within Six months of closing of academic session.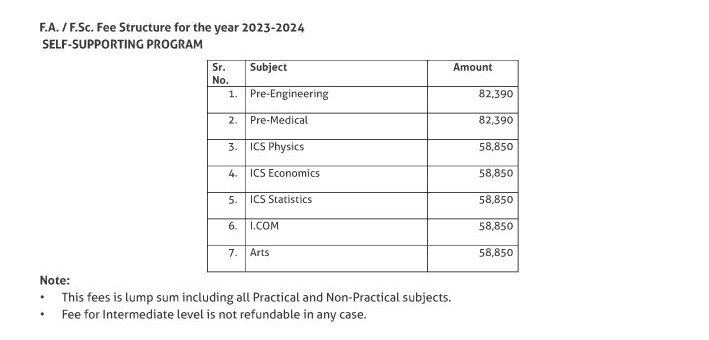 TREASURER
Lahore College for Women University, Lahore