ONE WEEK WORKSHOP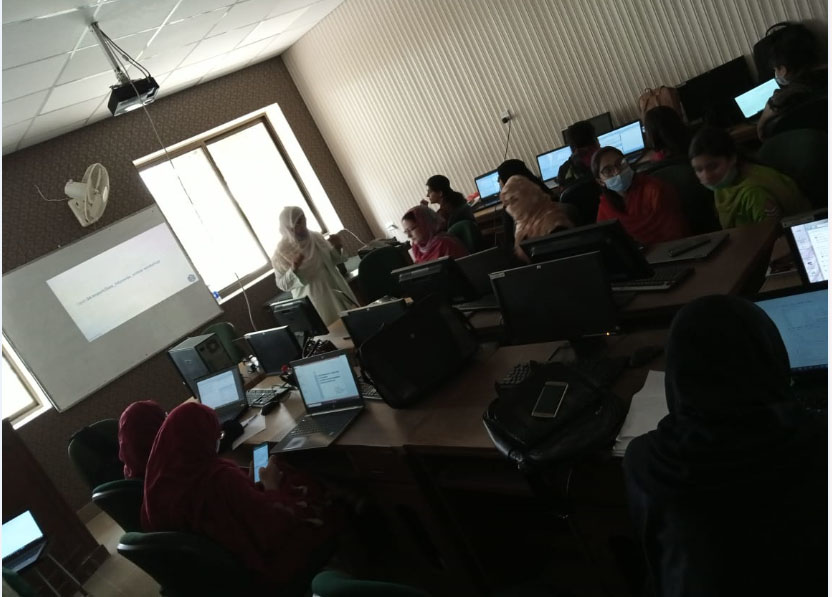 Department of Statistics under the supervision of Statistics Society has arranged a one week workshop on "Data Science with Tidyverse" from 2-11-2020 TO 6-11-2020. This one week workshop was the part of LISA 2020 3rd Symposium, particularly focusing on connecting to build capacity to transform evidence into action and celebrate the international year of women in Statistics and Data Science. Dr. Asifa Kamal, Associate Professor (Statistics) was the speaker. She completed her Post-Doctorate from University of Southampton, UK. The purpose of this workshop was to provide students and faculty members the basic idea of Big Data and data handling using tidyverse. 30 participants attended the workshop and it was a great help for new researchers.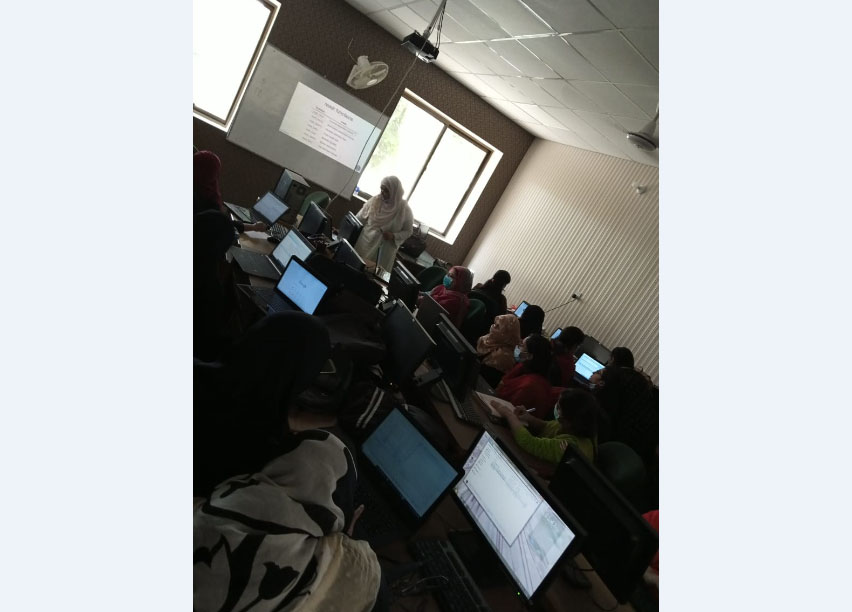 Four Days Celebration in Context with LISA 2020 Symposium: "Connecting to Build Capacity to Transform Evidence into Action" and the International Year of Women in Statistics and Data Science  

FundingApproved by ISI (WB TFSCB) 

Organized by Department of Statistics in collaboration with  

LISA-LCWU, Lahore 

Dated: 19th October, 2020 to 22nd October, 2020
Statistics department has arranged a series of events in the context of LISA 2020 3rdSymposium, particularly focusing on connecting to build capacity to transform evidence into action and celebrate the international year of women in Statistics and Data Science. For entire series of events financialsupport was approved by International Statistical Institute (ISI).
Day 1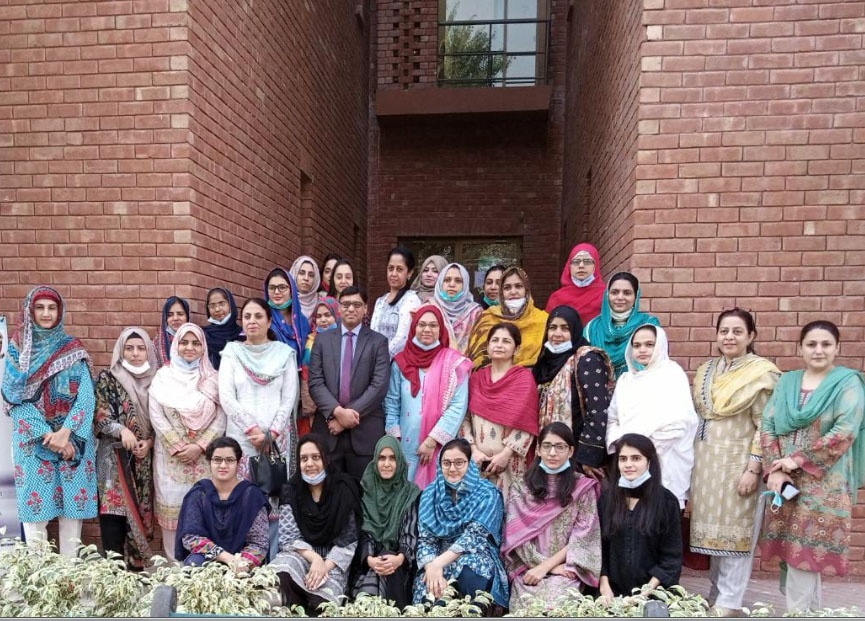 One day workshopon "Advance Analysis Skills & Graphing Solutions in Scientific Research with GraphPad PRISM"dated 19 – 10 – 2020 was organized. Ms. AfzaRasul, Lecturer (also PhD Scholar at GCU, Lahore), was instructor. The workshop focused on visualization of data using PRISM. Total 31 participants were registered, majority were faculty of Statistics department, students of MS Statistics and PhD scholars from Biotechnology department.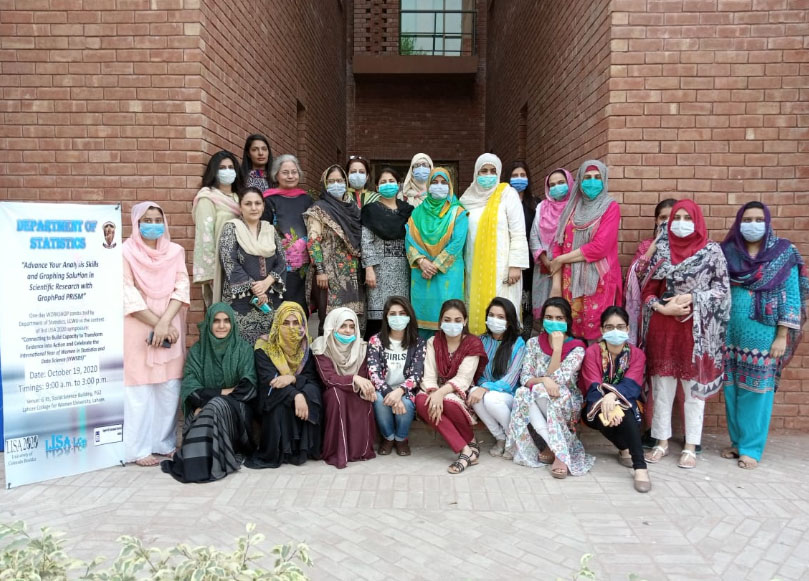 Day 2
International Webinar
An international webinar was organizedunder the title: "Statistics: Solution to Interdisciplinary Research Problems". This webinar was the sub event of the 3rd LISA 2020 International Symposium. Event was chaired by MS. Mahnaz Makhdum Chairperson Department of Statistics, LCWU, Lahore. Vice Chancellor LCWU, Prof. Dr. Bushra Mirza joined webinar and appreciated the efforts of Department of Statistics and LISA LCWU, for their contribution to promote the subject and their role in the capacity building of women in Statistics. The webinar included four talks. Dr. Sat Gupta, Professor of Statistics and Head, Mathematics and Statistic Department at the University of North Carolina, Greensboro United States put a light on 
"A Mixture Binary RRT Model with a Unified Measure of Privacy and Efficiency"
Prof. Dr. Saleha Naghmi Habibullah, Professor of statistics and former Research Director at Kinnaird College for women talked about:
"Role of Higher Education Institutions in Spreading Awareness Regarding the Socio-Economic Situation of Pakistan"
Dr. Faiza Tabassum was the 3rd speaker. She is a faculty member at Southampton Business School, UK. Her topic of discussion was:
"Interdisciplinary Research: The Role of Statistics"
And the last speaker was Dr. Maryam Ilyas, Assistant Professor from College of Statistics & actuarial sciences, University of the Punjab. She talked about:
"Spatial Statistics with Applications to Climate Science"
While concluding webinar Dr. Asifa Kamal, member LISA-LCWU, gave brief overview of LISA 2020 network. She thanked International Statistical Institute (ISI) for approval of financial support for all the events conducted by LISA-LCWU. She also invited participants to become member of ISI. Being a member of LISA-LCWU, she appreciated the efforts of Prof. Dr. Eric Vance for generating collaborative network of Statisticians for developing countries.
Zoom was used to conduct webinar and attached it to LCWU WebTV that broadcasted it live. It can be watched using following link
https://www.facebook.com/webtvlcwu/videos/353557319227685/?sfnsn=scwspmo
Day 3-4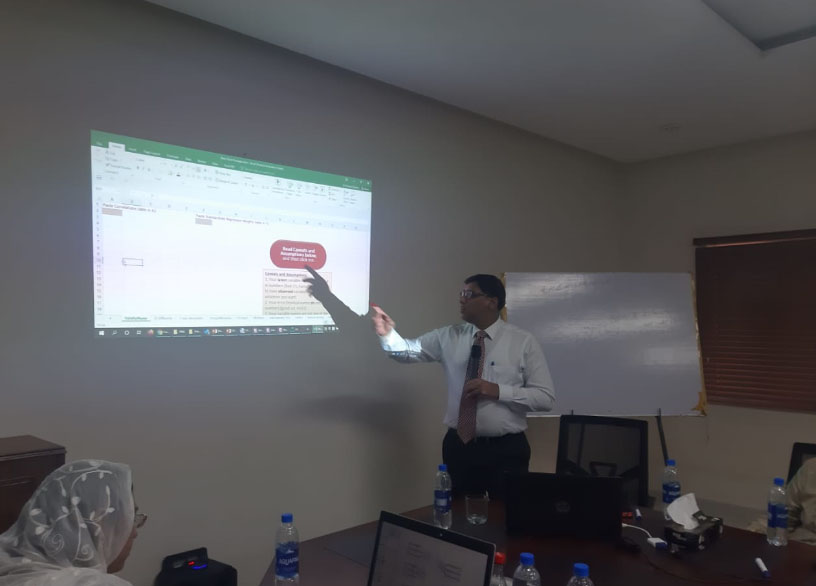 Two days' workshop was conducted from 21–10–2020 to 22–10– 2020 under the title:
"Structural Equation Modeling, Mediation and Moderation Analysis using AMOS and the PROCESS macro for SPSS"
Dr. Sharjeel Saleem, Associate Professor, Lyallpur Business School, Government College University, Faisalabad was the instructor. Number of participants accommodated were 34. In this workshop faculty and PhD scholars from Statistics, Psychology, Mass Communication, Economics and Business Management department. 
All these events has uplifted the subject of Statistics and not only benefited women in Statistics but also boosted image of Statistics as interdisciplinary subject in other departments of university.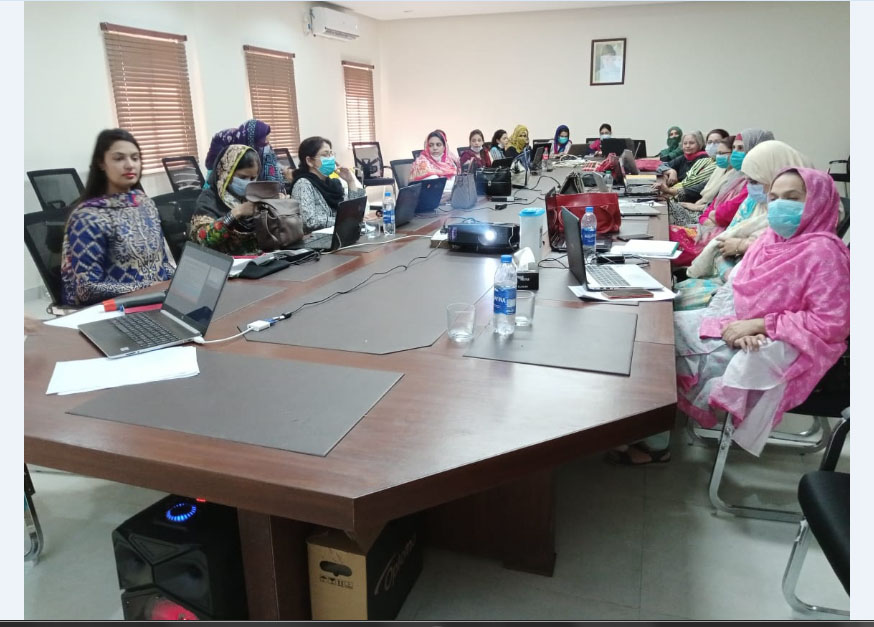 Data Visualization, Simulation & Optimization of Generalized Linear Models through Mathematica
A one week workshop on "Data Visualization, Simulation & Optimization of Generalized Linear Models through Mathematica" is being held from Feb 24th to 28th, 2020. The resource person will be Dr. Sharqa Hashmi, Assistant Professor, department of Statistics, LCWU. Faculty and students of BS and MS of LCWU will attend the workhop.
Seminar
A seminar will be organized on Mar 4th, 2020 by Statistical Society. The resource person will be Professor Sat N. Gupta, a fellow of the American Statistical Association, Professor and Head of the department of Mathematics and Statistics, University of North Carolina at Greensboro, USA.
Research poster competition
Research poster competition will be accompanied with the seminar on Mar 4th, 2020. Students will present their research conducted in different fields of Statistics.
Department of Statistics has arranged a student activity on 10th- 11th of April, named as:"Data Analysis Assistance through SPSS"
It was two days open desk activity that allowed the students and researchers to come and get guidance in their research with reference to the software. Students of BS-IV along with faculty members were available on their desks at the main entrance of PG Block. The main consultancy areas contain Regression Analysis, Hypothesis Testing & ANOVA, Descriptive Statistics, Logistic Regression, Non-Parametric Tests, and Data entry related issues. They guided the respective audience under the supervision of faculty members from statistics department. The overall response of the event was appreciable and provided the students a chance to face real life data analysis statistical issues.
A lecture was arranged by Department of Statistics on "SPSS Data Entry Builder-4". The main purpose was to introduce students and researchers a new way to handle and manage data entry. The resource person was Dr. Abdul Qayyum, working as a Statistician in Crop Reporting Service, Agriculture Department, Punjab. It was totally a new way to handle data entry and manage bulk of data in proper form. It was worthy information for students as well as for faculty members who can use it further in surveys and intense data handling. 
The department of statistics has been regular in organizing research and learning activities by prominent statisticians.Continuing this tradition, a lecture on the topic of "A New Class of Bivariate Distributions with Some Applications" was delivered on 15-05-2014 by Dr. Muhammad Mohsin, Assistant Professor at COMSATS Institute of Information Technology, Lahore. Dr. Mohsin did his Ph.D in Applied Statistics from Alpen-Adria University, Klagenfurt, Austria.

The objective of the lecture was to highlight one of the important dimensions of statistical research. The talk was about the construction of a New Class of Distributions Generated from Functional Scale Parameter. Dr. Mohsin further discussed the role and application of probability distributions on the environmental data with the help of software R. He highly emphasized the importance of R language.Further dimensions of his research were also shared which can be very helpful for the students involved in research.
Department of Statistics, LCWU arranged a lecture on "Utilization of Simulation Theory in Research using R-Language" on December 10, 2013. The lecture was delivered by Dr. Suhail Chand, Ph.D (Statistics) from University of Nottingham, UK, and Assistant Professor, College of Statistical and Actuarial Sciences, University of the Punjab, Lahore. He is a scholar who has distinguished himself by his academic and professional achievements in the field of statistics. He has also been awarded "University of the Punjab, Best Teacher Award" in 2006.

The lecture started with the basic concept of simulation. It is the computational technique that generates large datasets under specific assumptions. Dr. Chand discussed the advanced computing skills and simulations using R language. He described the ways through which we can deal the statistical data in a better way using simulation technique. He also mentioned the Monte Carlo Simulation Methods, which is the branch of simulation involving random sampling from Probability Distributions.
The lecture was attended by faculty and students of department of statistics, which proved to be very informative, and educative and will indeed benefit us all.
A two-week long workshop on "Time Series, Analysis & Forecasting" for the faculty & students of Department of Statistics, Economics, and Management Sciences held at Lahore College for Women University (LCWU).

This workshop was conducted by Dr Akram Chaudhry of Warwick University, currently working at University of Bahrain and was a joint effort of LCWU & FC College University. The program was funded by the Ministry of Education, Training and Standards in Higher Education (National Talent Pool) whose focus is on various aspects of improving the Pakistani education system by encouraging expatriate Pakistani experts to contribute to local educational development needs.
 
Speaking at the certificate awarding ceremony, the Chief Guest, Awais Kundi, Joint Secretary at Ministry of Education, appreciated the efforts of LCWU for maximising the benefit of the National Talent Pool Programme by organising 5th international workshop. He also thanked the facilitator Dr Akram Chaudhry for his valuable input in developing the skills of modern techniques of forecasting among the faculty and students. Dr Akram Chaudhry appreciated the high quality research work of international standards being conducted by the faculty and students of Statistics Department at LCWU.
Department of Statistics  , Lahore COLLEGE FOR WOMEN UNIVERSITY organized a special lecture on "Research Methodology " by  Asif Hanif on 19-04-2013 in the Pharmacy Lecture Room.
Asif Hanif did his M. Phil (Biostatistics and Epidemiology) from "King's Edward Medical University, Lahore", M. S (Applied Statistics) from "National College of Business Administration and Economics" & M. Sc.(Biostatistics) from "University of the Punjab, Lahore" .Many Thesis of medical students has been done Under his supervision. He has also  given  an award of "A+ Pakistani" on his achievements and successes in May,2011. Moreover he have been rewarded with a title of "Icon Personality for Special Persons" .
Mr. Asif  enlightened different dimensions of research and various type of research papers and  their details. He  emphasized on the importance of research and also taught many tools of Analysis  for different types of data.
Statistical society arranged a two day QUIZ COMPETITION on 8ᵗʰ & 9ᵗʰ April, 2013 in connection with the ongoing celebrations of the 'International Year of Statistics' declared by "International Statistical Institute". The participants were the students of  BS I, II, III, IV.  The purpose of the Quiz program is to enhance and groom the educational capabilities of the students,  and to bring out the sense of healthy competition and confidence in them. The competition was judged by Aliya Fawad(Asst. Prof) & Ms. Naila Amjad (Asst. Prof).
On day one, the two competing teams were from BS III & BS IV. There were 3 teams, each comprising of four members, two from BS III and two members from BS IV. Team C won the competition and the members of the winning team were: Syeda Amna Wajahat, Qurat-ul-Ain Amir, Faika Binte Nasir, Hina Gul.
On day two, the students from BSI and II participated in the competition. There were three teams, each  comprising of four members two from BS I and 2 members from BS II. Team A was declared the winner. The members of winning team were: Anam Rafi, Sehrish, Ayesha Islam, Mamoona Mahmood.

Many interesting rounds were held to make quiz more interesting like Group question round, individual question round, buzzer round, rapid fire round & topic selection.
In the end, all the participants and the winners received certificates from the Head of Statistics Department Dr. Ayesha Roohi. 
Statistics department of Lahore College for Women University, Lahore arranged a lecture on Time Series and Application to the Real World Data in connection with the ongoing celebrations of the 'International Year of Statistics' declared by "International Statistical Institute" on Friday 1ˢᵗ Feb, 2013 in the IT Seminar Room by Dr. Akram M Chaudhry.
Dr. Akram did his PH.D in Statistics from University of Warwick, UK and MA in Statistics and Economics from Punjab University. He developed numerous linear dynamic system models and state space models for time series analysis. He is a member of number of professional bodies like Member of Islamic Society of Statistical Sciences, Member of American Statistical Association, USA and many more.
Dr Akram briefly discussed the basic applications of the Time Series and how we can use it in the Real World Data. It's the major part of Statistics. He directed us how to make use of Statistical Packages for analysis.
In the end there was an interactive questions answer session in which all the students participated actively.
A lecture was delivered by Dr.  Muhammad Azam held on 28.11.2012 addressing the importance and application of R-Language. R is known to be the most powerful statistical computing language. It has the capability to calculate almost every statistical equation and every type of statistical problem. The language has unparalleled ability to sort through data sets and predictive modeling. The lecture revealed the importance of R-language in research and its being simple and user friendly programing language.
The lecture started with the basic introduction to R  and how we can have access to the software. Afterwards Dr.  Muhammad Azam gave an introduction to the students on the use of R-language starting with the simple programs and proceeded to more complex programs. He also gave demonstration on the usage of functions and its large built in library of functions. He also gave an introduction of different packages of the R which revealed the wide capability of the language. Overall the lecture was very informative and fruitful especially for the beginners to have a good understanding of the R package.
Statistics department has arranged a poster competition on statistical data analysis on 26 June, 2012. Students from BS-3, BS-4 and MS participated in the competition. Posters were based on our daily lives. A variety of sectors like education, environment, health, education, GDP, etc. were focused. Analyses were based on different statistical techniques like regression, time series analysis and correlation.
Head of statistics department, Deans, faculty members and other guests visited. The   competition was evaluated by Prof MasoodAmjad Khan from GCU. From the students of MS and BS-4 Anum Fatima got  the first position certificate and the group of ZunairaZaheer , Samra Ali and HinaIftikhar got the first position certificate from BS-3.All the other  students got the certificate of participation.The function ended at 1:00pm.


On 24th may 2012, Guests speaker Mudassar Ahmad, (DGM&E) at planning and development department delivered lecture to the students of BS Statistics (Semester IV, VI, VIII) on "Applied research areas in statistics and availability of data sets". He presented the methods of data selection and application of research techniques. He gave examples of real life data sets which are available in Punjab. This lecture helped students to have broader view about a data selection and proper analysis of data according to availability.
In July 2010 Islamic Society of Statistical Sciences invited all institutions to join the weeklong celebrations (from 18.10.2010 to 23.10.2010) in connection with the World Statistics Day being celebrated worldwide on 18.10.2010. Department of Statistics at LAHORE COLLEGE FOR WOMEN UNIVERSITY, LAHORE (LCWU) decided to contribute to the same by organizing a seminar on "Development of Statistics in Pakistan". In addition an essay competition highlighting different aspects of the subjects was held for students studying at different levels of BS Hons. Program. A panel of eminent professors from GOVERNMENT COLLEGE UNIVERSITY (GCU), Lahore was appointed to judge the competition.
    
The Seminar was held on 19.10.2010 in collaboration with HEC. Faculty members from statistics departments at all female colleges of Lahore, public sector as well as private sector universities in Lahore, University of Gujrat and Quaid-e-Azam university, Islamabad were invited to attend the seminar. The objective of seminar was to highlight the role and development of statistics in Pakistan since independence. Proceedings of seminar started with an opening speech by Dr. Bushra Mateen, the Vice Chancellor of LCWU, followed by welcome address by Dr. Ayesha Roohi, the head of statistics department, LCWU.

The first lecture highlighting, "The Current Status of Statistics in Pakistan"  was delivered by Dr. Munir Ahmad, who is the rector of National College of Business Administration & Economics (NCBA&E) and one of the founding members of ISOSS. After tea break, the 2nd session started with the lecture on "Importance Of Sampling And Sampling Distributions" by Dr. Shahid Kamal, the principal of College of Statistical and Acturial Sciences, University of Punjab. During this session, the winners of the essay competition briefly presented their essays. The 3rd session started with a lecture by Dr. Khalid Pervaiz, Dean/Head of statistics department at GCU, Lahore. The topic of his lecture was "Probability and Probability Distributions". The last lecture was on "Official Statistics in Pakistan" by Mr. Shamim Rafique, the director general BOS Punjab.

During the closing ceremony souvenirs were presented to the resource persons and the Vice Chancellor, LCWU. Overall this seminar highly contributed to the enhancement of application of statistics in various fields.