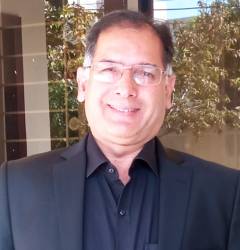 As a founding chairperson, it is an immense source of pleasure for me to welcome you to the Department of City & Regional Planning (CRP). The Department offers 4-Years BSCRP Regular and Self-Supporting Evening Program, MS (2-year) and Ph.D. in City & Regional Planning (CRP). The Department also offers certificate programs for Continuing Professional Development (CPD) in collaboration with Pakistan Council of Architects and Town Planners (PCATP). The department has also launched four years degree program in Disaster Management from fall 2021.

Our faculty strives to grip prospective students with a broad spectrum of knowledge and technical skills. Our aim is to produce highly skilled and technically sound City and Regional Planners and disaster managers who are well-equipped with the practical knowledge and experience of dealing with the increasing number of problems and issues at urban and regional scales with futuristic approach considering ground realities. In addition to that we enable the students to become efficient urban managers and decision makers to tackle the emerging challenges in the field of City & Regional Planning (CRP) towards achievement of the Sustainable Development Goals (SDGs).

Our department has established educational links with international community of City Planners, such as International Society of City and Regional Planners (ISoCaRP), Netherlands and respective departments of Japanese institutions namely Tokyo Institute of Technology, Tohoku University and Aichi Gakuin University. We have established a very progressive link programs with School of Urban and Regional Planning (SURP), University of the Philippines as well as Philippines School of Business Administration (PSBA).The department has "Students First" policy and priority is given to provide maximum facilities and opportunities for their professional growth through interactive learning

In recent development, the department has started self-supporting evening program of BS (4 years) in City and Regional Planning. In addition to that the department has launched BS Disaster Management (4 Years Degree Program) in 2021 with the collaboration of Japan International Cooperation Agency (JICA), National Disaster Management Authority (NDMA), National Institute of Disaster Management (NIDM), Provincial Disaster Management Authority (PDMA), National Disaster Risk Management Fund (NDRMF), Rescue 1122 and respective collaborating labs of Japanese universities namely Tokyo Institute of Technology, Aichi Gakuin University, AIST and Tohoku University.

Prof. Dr. M. Atiq ur Rahman
Chairperson 
City and Regional Planning Department (Disaster Management Program)