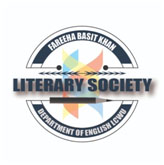 Fareeha Basit Khan Literary Society is named after the currently serving Director of Sabiha Mansoor Institute of Languages and Culture, LCWU, Lahore. The society was previously named Shaukat Ara Niazi Literary Society and the yearly medal was funded by Ms. Shaukat Ara Niazi for a long time. Prof. Fareeha Basit Khan is the patron while Mrs. Aaisha Umt Ur Rashid is the Incharge of the society.  Ayza Yousaf is the President and Mahnoor Tahir is the Secretary of the Society.
Fareeha Basit Khan Literary Society (FBK) is one of the most extensively dynamic and vibrant societies in the realm of University's extra-curricular activities. Seeking to enhance the students' taste in anything that gyrates around the perception of 'literary' and to provide them with a milieu which promotes interaction between like-minded people in the campus to cultivate a course of action of combined creative exchange and development, the society undertakes a plethora of activities including seminars, talks, orientation sessions, rhetoric and composition practices, reading profound essays, poetry recitation, lectures, workshops, quiz contests and discussion forums. All these activities are aimed to widen the horizon of the mind and to empower the students to appreciate that slight glitter of 'literary spark' evidently experienced in matters of everyday life and diverse art forms. We propose a regular prospect to students with interest in literature to listen to and question writers and speakers on diverse literary topics. We work in strong liaison with literary societies of other universities and educational institutes of Lahore.
FBK provides a medium for creative expression to all literary enthusiasts around the campus, and helps the students to discover their potential in any area they identify with, in order to equip them with a tool to voice their outlook and to help them take the primary stride towards shaping these minute notions into the changes they incline to bring about in the world around them.
The society is an ideal platform for all the people who care for putting their minds together to eventually link the dots between all the pieces of a hodgepodge world around them.

Hail to a smarter approach of thinking…Hail to an epoch of creative brilliance painted with strokes of freedom in expression. Welcome to FBK Literary Society
AIMS 
·         It aims to provide a forum where the young writers can polish their skills and enhance their capabilities.
·         It focuses to provide inter-university, national and even international grounds of multiple literary competitions and contributions to the students.  
·         It intends to provide a medium which from small beginnings will eventually grow into a learned society with an international outreach and perspective.
·         Through programs of discussions, talks and study tours, the society endeavors to endorse love of the written word, whichever form it may take, be it prose or verse, the classics or modern writers.
·         It aims at encouraging scholarly studies and discussions.
ACTIVITIES
·         Recently, the society organized a three day International Symposium entitled 'Post-colonial and the Glocal' which was held on 29-31 Oct, 2019 at Iqra Auditorium, LCWU
·         It also managed to have the book 'The Bridge' published in Malaysia featuring writers from Malaysia and Pakistan.
·         Positions were also won by brilliant students in ALL PAKISTAN LITERARY COMPETITION, 2019 organized by Education University in collaboration with Expo Centre.
·         Our members took part in FANOOS'19 ALL PAKISTAN LITERARY FESTIVAL organized by UET and won distinctions in multiple genres.
·         The cociety managed inter- university ANNUAL POETRY RECITATION COMPETITION entitled 'The Feminist Perspective' with great success. Event also had tints of enactment.
·         3 members of the society took part in ANNUAL POETRY COMPETITION organized by NAB, Lahore on Nov 14, 2019 at Alhamra Art Council.
·         It also took part in ALL PAKISTAN LITERARY COMPETITION, 2018 organized by Education University Lahore.
·         On Dec 13, 2018 society had an intra-university quiz competition followed by an enactment on the theme of 'Theatre of Absurd'
·         It also organized a Book Launch of 'Lahore I am Coming' by Dr. Rizwan Ahtar.
·         The literary society had a transparent and successful ANNUAL INTER-UNIVERSITY QUIZ COMPETITION.
·          The Literary Society members attended a talk by an eminent writer Mohsin Hamid at FC College Lahore.
·          It participated in IPSS YOUTH POETRY WRITING COMPETITION (online) on 12th of March 2012.
·          It also participated in ANNUAL POETRY RECITATION COMPETITION held at Kinnaird College Lahore on 10th of March 2012.
·          It took part in BNU BESTIVAL 2012 for writing English poetry.
·          In November 2011, the students of the Literary Society appeared in BILINGUAL POETRY RECITATION COMPETITION held at LGS Paragon.
·          On 8th of March 2011, members of the Literary Society participated in ANNUAL SIRAJ-UD-DIN POETRY RECITATION COMPETITION.
·         On 28th March 2011, three students of  Literary Society participated in PINK RIBBON CREATIVE CONTEST and wrote essays on the topic 'WOMEN ARE HUMAN'
How to be a part of the Society?
You can contact the office bearers of the society, show your interest along with some evidence of your literary potential in the form of some publication or written material, undergo an interview and if you are lucky enough, you are in.
Office Bearers :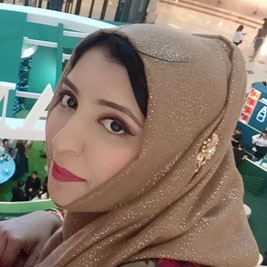 In charge of FBK Society: Ms. Aaisha Umt Ur Rashid   This email address is being protected from spambots. You need JavaScript enabled to view it.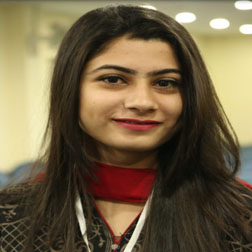 President of FBK Society:  Ayeza Yousaf                       This email address is being protected from spambots. You need JavaScript enabled to view it.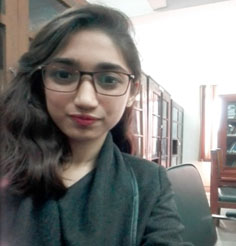 Secretary of FBK Society: Mahnoor Tahir                       This email address is being protected from spambots. You need JavaScript enabled to view it.
AWARDS AND HONOURS:


| | | | |
| --- | --- | --- | --- |
| AMNA AKHTAR | 2nd Position | GOVT Essay Writing/Debate/Art Competition |  9th of December 2011 |
| AMNA AKHTAR | 1st Position | NAB Competition | 2011 |
| AMNA AKHTAR | 3rd Position | Chief Minister's Essay Writing Competition. | 2011 |
| AYEZA YOUSAF | 1st position | FANOOS'19 ALL PAKISTAN LITERARY FESTIVAL, UET/ short story competition | 2019 |
| SYEDA FARWA BATOOL | 2nd position | FANOOS'19 LL PAKISTAN LITERARY FESTIVAL, UET / short story competition | 2019 |
| SYEDA FARWA BATOOL | 1st position | FANOOS'19 ALL PAKISTAN LITERARY FESTIVAL,UET/ poetry recitation competition | 2019 |
| OMAY OMAMA | 3rd position | FANOOS'19 ALL PAKISTAN LITERARY FESTIVAL, UET/ poetry recitation competition | 2019 |
| KOMAL NAEEM | 1ST position | ALL PAKISTAN LITERARY COMPETITION, Education University | 2019 |
| AYEZA YOUSAF | 2nd position | ALL PAKISTAN LITERARY COMPETITION, Education University | 2019 |