​One Day 2nd Provincial Conference and Parliamentary Dialogue
Addressing Violence against Girls in the Punjab
26 November 2019
In order to celebrate International 16 Days of Activism for ending Violence Against Women, Department of Gender & Development Studies, Women Institute for Leadership and Learning (WILL), LCWU in collaboration with Bedari Organization has organized a Provincial Conference and Parliamentary Dialogue on Addressing Violence against Girls in the Punjab 2019. The provincial conference had multi fold objectives such as i) to provide the communities of the program districts to share their needs and challenges with policy makers ii) to share the gaps, recommendations and commitments identified during the parliamentary dialogue iii) it will also provide opportunity to the policy makers to directly interact and listen to the issues of their constituents and get prepared before raising them in their respective jurisdictions. This activity aims to raise awareness on Girls Rights among society rights and to reduce violence like child marriage, child sexual abuse, and societal violence against girls.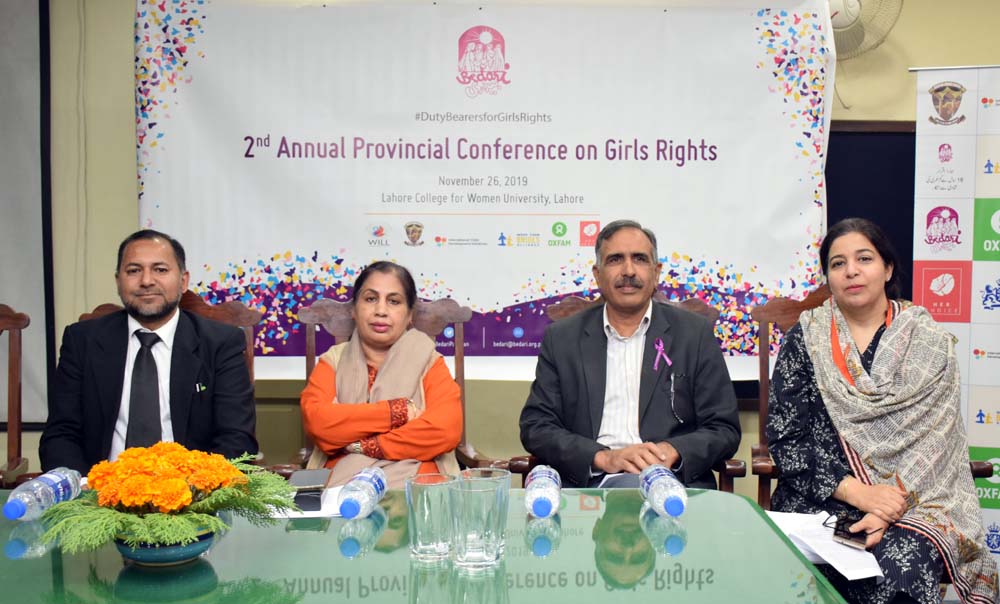 The ceremony was formally started with the recitation of Holy Quran. Mr. Adeel Qaiser, Director Program Oxfam gave a welcome speech to audience. After that a documentary named "Ehsas ki Ruksati" was displayed. There were three sessions in the program.
Opening Session was chaired by Prof. Dr. Talat Sohail, Director Women Institute for Leadership and Learning (WILL). Guest Speakers ​Mr. Shahid Husain (Secretary Punjab Commission on the Status of Women PCSW),  Ms. Kaneez Fatima, Chairperson- Punjab Women Protection Authority PWPA), Dr. Subah Malik, (HoD- Gender and Development Studies Department, LCWU), Ms. Anbreen Ajaib, (Representative Bedari Org.) threw light on sensitive issues related to Girls Rights including, Situation of Violence against girls on Pakistan, Situation of Child Sexual Abuse and its remedies, Girls Education as a tool to address violence against girls, and Gender Perspective of Right to Education.
Second session on situation of child marriages and ways to address was chaired by Sadia Sohail (MPA- Punjab Assembly). Guests Speakers Ms. ​Anbreen Ajaib (Executive Director, Bedari), Ms. Bushra Khaliq (Executive Director, WISE Organization) and Nabeela Shaheen (Coordinator Mumkin Alliance) discussed child marriage issues in Pakistan and social & health impacts of child marriages on girls and society.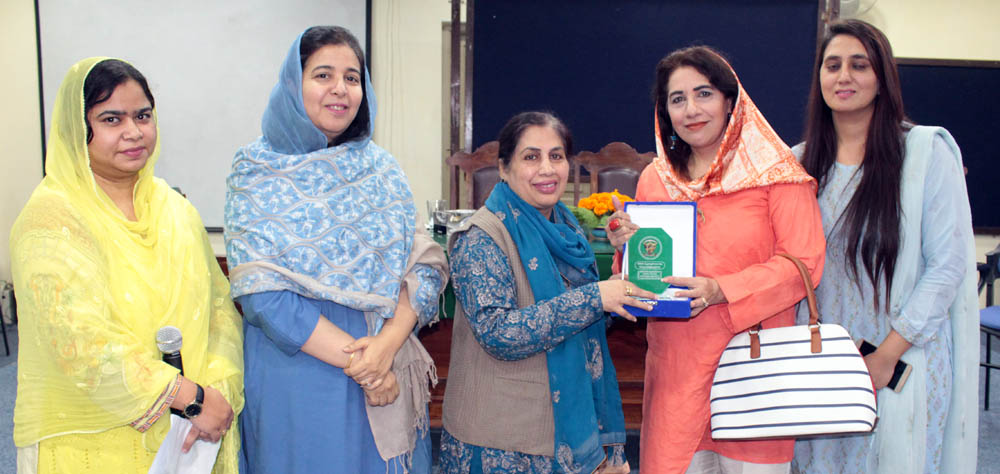 Third session on girls' education as a tool to address child marriages was moderated by Ms. Syeda Fizzah Gardezi (Assist. Manager, WILL LCWU). The honorable guests Ms. Rubina, (Director School Education), Ms. Uzma Ashiq Khan (Assistant Professor, GDS), Ms. Angeline Malik (TBC) and  ​Mr. Shah Nawaz (Provincial Coordinator, Strengthening Participatory Organization) talked about girls education, barriers and opportunities available in girls' education and role of govt. and civil society in promoting girls education.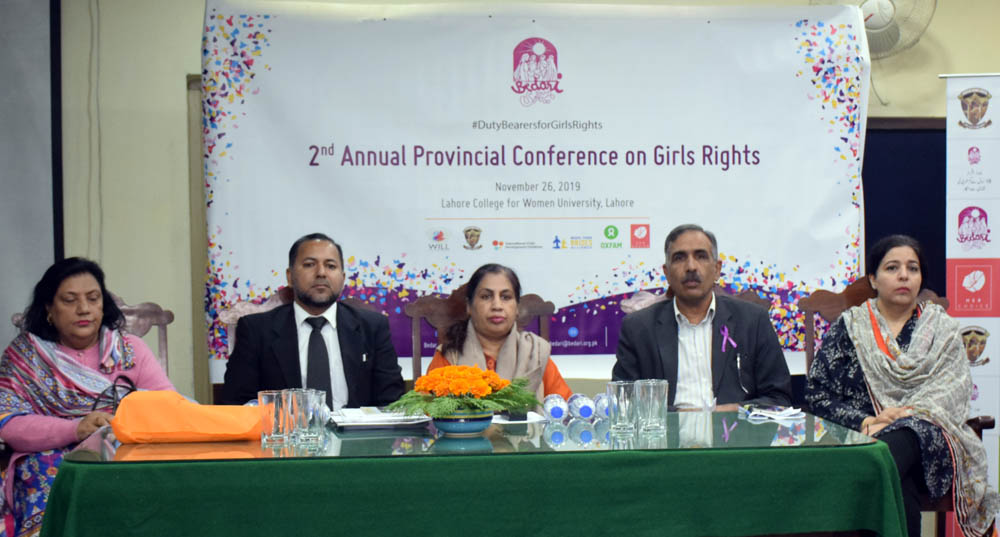 At the end of program Dr. Subha Malik (HOD, Gender and Development Studies, LCWU) and Anbreen Ajaib (Executive Director, Bedari Organization) presented the resolution on the protection of Girls Rights and shields to the duty bearers and extend their vote of thanks to honorable guests speakers and participants of conference.