THREE DAYS WORKSHOP ON "SURVEY DATA AND PANEL DATA ANALYSIS IN STATA"
from 29th-31st January, 2020
The Department of Economics organized a three-day workshop on 'Survey Data and Panel Data Analysis in STATA' from 29th January to 31st January. The resource person for the workshop was Dr. Muhammad Azmat Hayat (Assistant Professor, University of Punjab). The participants of the workshop included MS Economics students and faculty members from the Economics Department, Statistics Department and the Mass Communication Department.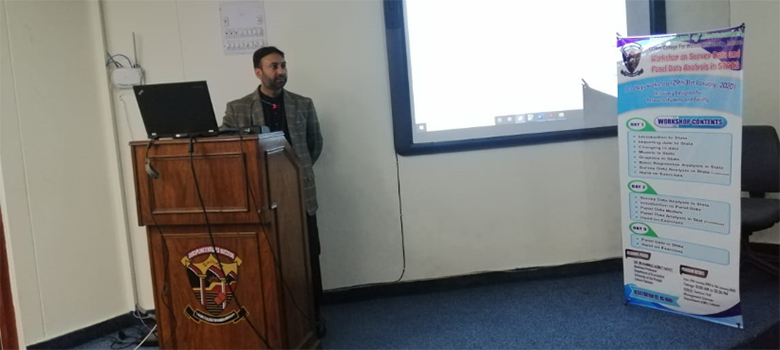 The main objective of the workshop was to familiarize students and faculty members with the application of one of the latest statistical software, that is, STATA. The workshop aimed to inform participants regarding the usage of the software as well as its econometric relevance. The workshop played a vital role in providing a stepping stone for students and faculty members in the facilitation of their research work.
The workshop ended on Friday, 31st January. Dr. Tahira Tauheed, Head of Department, gave a vote of thanks in which she thanked the participants for their cooperation and the Economics Society for organizing such a successful event.
Dr. Tahira Tauheed stated that the Economics Departments plans to further conduct a number of workshops for the capacity development of the faculty members and the students. At the end of her address, Dr. Tahira Tauheed presented Dr. M. Azmat with a token of appreciation.