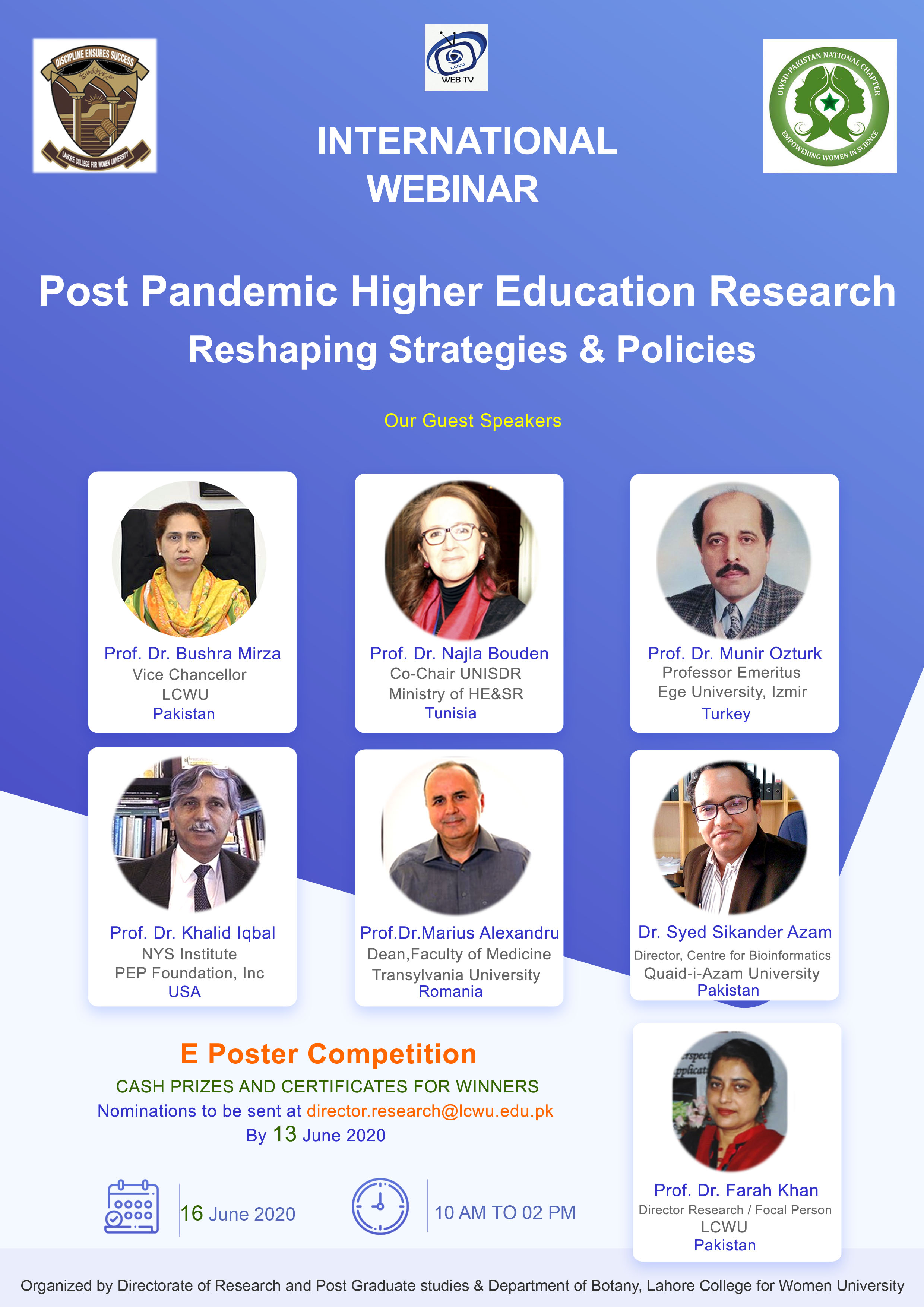 Schedule of Webinar - June 16 2020 - 10am-2.00 pm PST
Webinar opening  by Focal person
Prof.Dr.Farah Khan
Time Slot: 10.00 am -10.05 PST

Recitation of Holy Quran by
Mr. NaveedIqbal
Time Slot:10.05-10.10 am PST
Inaugural address

Prof. Dr. Bushra Mirza
Vice Chancellor,
LCWU Lahore Pakistan
Chief Organizer of Webinar

Time Slot:10:15 AM– 10:30 AM PST
Profile: Dr. Bushra Mirza is currently serving as vice chancellor of Lahore College Women University which is one of the largest women universities in Asia. She obtained both of her M. Sc and M. Phil degrees with distinction from Quaid-i-Azam University. After completing her Ph. D from the University of Cambridge, on Cambridge Commonwealth Scholarship, she did a short post-doc from the University of North Carolina, USA. Then she joined faculty of Biological Sciences in Quaid-i-Azam University and served for more than twenty years before joining Lahore College Women University as vice chancellor last year.
She has published more than 200 papers in the refereed journals of international repute. In 2013, she was awarded an honorary position of ISESCO Women Science Chair. In this regard she has been actively engaged in the promotion of female scientists working in OIC countries. Besides, she is a member of several international forums like UNESCO-IFAP National Committee, Global Biodiversity & Health Big Data Alliance and executive member of the National Chapter of the Organization of Women Scientists of Developing World (OWSD).
As recognition of her research achievements, she was awarded Best Young Research Scholar Award (2006) by Higher Education Commission, Pakistan, gold medal in the Year 2008 by Pakistan Academy of Sciences and Prof. A. R. Shakoori Gold Medal by the Zoology Society of Pakistan in 2010, and Presidential Award Tamgha-i-Imtiaz in 2017.
 
Documentary

An Introduction to LCWU Lahore, Pakistan

Time Slot:10:30-10:40 am PST

Speakers

Prof. Dr. Najla Bouden Romdhane

National Coordinator of Tertiary Education for Employment Project
MOHER, Tunisia

Title of the Talk:Managing the COVID-19 Impact through Competitive &Innovative  funding programs

Time Slot:11.15-11.30  am PST

Profile: Prof Najla Bouden Romdhane is Professor at the National School of Engineers of Tunis (www.enit.rnu.tn, Tunisia). Prof Romdhane is the co-chair of the UNISDR Science and Technology Advisory Group and co-chair of UNISDR ARAB Science and Technology Advisory Group.
Her research expertise comprises seismic risk assessment and management including regional hazard and local site effects modelling, site investigations, building assessment and seismic risk scenario simulation, strengthening population awareness to risk and disaster management during the last decades.
In addition to her academic mission, Prof Bouden Romdhane is Director General at the Ministry of Higher Education and Scientific Research in Tunisia in charge of the Tertiary Education for Employment Project (TEEP) and supports the on-going Higher Education reform. Previously, she has served as senior councillor of the Ministers of Higher Education and Scientific research (2006-2016) on Quality and Governance related aspects.
 
Prof. Dr. Munir Ozturk

Professor Emeritus

Ege University, Izmir,Turkey

Title of talk:Role of Botanists in Reshaping higher education research  Strategies and Policies Post Covid-19

Time Slot: 12.00 noon -12.45 pm PST
Profile:  Prof. Dr. Münir Öztürk(M.Sc.,Ph.D.,D.Sc.,FIAS) is the Professor (Emer.) of Ecology & Environmental Sciences at Botany Dept. & Centre for Environ. Studies, Ege University,Turkey.  He is also  the Vice President of the Islamic World-Academy of Sciences(WAS). He has the honour to be, the  Consultant Fellow at Fac. of Forestry,Univer. Putra Malaysia at Malaysia. He is the Distinguished Visiting Scientist at ICCBS, Karachi Univer., Pakistan as well.
Prof.Dr.KhalidIqbal

 Chairman, Department of Neuro chemistry

NYS Institute for Basic Research

President Promotion for Education in Pakistan

(PEP) Foundation, Inc. Staten Island, NY 10314, USA
Title of the Talk:Challenges and Opportunities in Higher Education during and Post-Corona Pandemic

Time Slot: 10.40am- 11.10 am PST

Profile:Khalid Iqbal is Professor of Neuroscience and Chairman, Department of Neuro chemistry at the New York State Institute for Basic Research in Developmental Disabilities, Staten Island, New York. He received his Ph.D. in Biochemistry from the University of Edinburgh, UK.
 His pioneering studies on Alzheimer disease have won many prizes including the Potamkin Prize, the Zenith Award from the Alzheimer's Association, USA and Honorary Doctorate of Science  from City University of New York College of Staten Island. In 2007, Alzheimer's Association, USA, established a Khalid Iqbal Lifetime Achievement Award for Alzheimer's Disease Research.
 Dr. Iqbal has authored over 400 scientific papers in prestigious American and international scientific journals and edited seven books with 46,230 citations and h-index of 111. He currently serves on the editorial boards of several journals and scientific advisory committees of biotechnology companies.
Dr. Iqbal is also the Founding President of the Promotion of Education in Pakistan (PEP) to support the higher education sector in Pakistan since 1994. He is the Foreign Fellow of the Pakistan Academy of Sciences since December, 2019.



Prof.Dr. Marius Alexandru Moga

Dean, Faculty of Medicine,

Transylvania University, Brașov, Romania

Title: Post Pandemic research - policies and priorities in higher education institutions

Time Slot:11.30-12.00 noon PST
Profile: Dr Moga  studied Medicine at the Cluj-Napoca Faculty of General Medicine and became Specialist in Obstetrics and Gynecology in 1994 and Consultant for Ob-Gyn in 1999, did his PhD in 2004, He is   running the 4th Clinical Dept of Ob-Gyn in  Clinical Hospital of Ob-Gyn  Brasov since 2007. His Specialisations are  in : Onco-Gynaecology ,  Maternal-Foetal  Medicine , Ultrasound  in Obstetrics and Gynaecology, Colposcopy and  Cito-diagnosis, Laparoscopic  Surgery, Family Planning and Contraception, Health Management.  
He got the position of  Professor in 2014 for the Discipline of Obstetrics and Gynecology at the Faculty of Medicine of Transilvania University of Brasov. He is author and co-author for 11 medical books with 47 ISI quoted papers in Journals with IF, and more the 200 medical papers  published in IDB Journal and/or presented to national and international Conferences and Congresses.
Currently working as Dean of the Faculty of Medicine at Transilvania University of Brasov.


Dr. Syed Sikander Azam

Head, National Centre for Bioinformatics

Quaid-i-Azam University, Islamabad Pakistan

Title of Talk: Vaccine and Drug Designing for COVID-19: Research and Strategies

  Time Slot:1.00- 1:30 pm PST

Profile: Dr. Sikander has vast,research experience, in Computational Chemistry and Molecular Dynamic  Simulations of protein complexes to understand their structural and dynamical aspects and role in biological systems.  Dr. Sikander has accomplished his Ph.D from University of Innsbruck, Austria in 2009 and post-doctoral experiences from US and Europe. He has produced 6 Ph.Ds and 50 M.Phil. students along with 85 publications with  impact factor more than 200. Furthermore, he is a member of Pakistan Academy of Sciences and established computational lab, at the National Centre for Bioinformatics at QAU. Dr. Sikander has achieved 5 national and 5 international awards including Research Productivity Award by PCST, productive faculty award by Quaid-i-Azam, Somphot fund award  and Ernst Mach Follow-up Award . He is editorial board member and reviewer of many research journals, He also Holds  international grants from Pak-US funding and International foundation of science (IFS).
Recently  he has published his famous  research on COVID-19  in European Journal of Pharmaceutical Sciences.



Announcement of positions of E-posters by
Prof. Dr. Bushra Mirza
Vice Chancellor
Concluding remarks with Thanks by Focal person,
Prof.Dr.Farah Khan
Director Research& Post Graduate Studies/Chair, Dept of Botany, LCWU

Time Slot: 1:30 - 2.00 PM PST

Closing of Webinar:2.00 pm