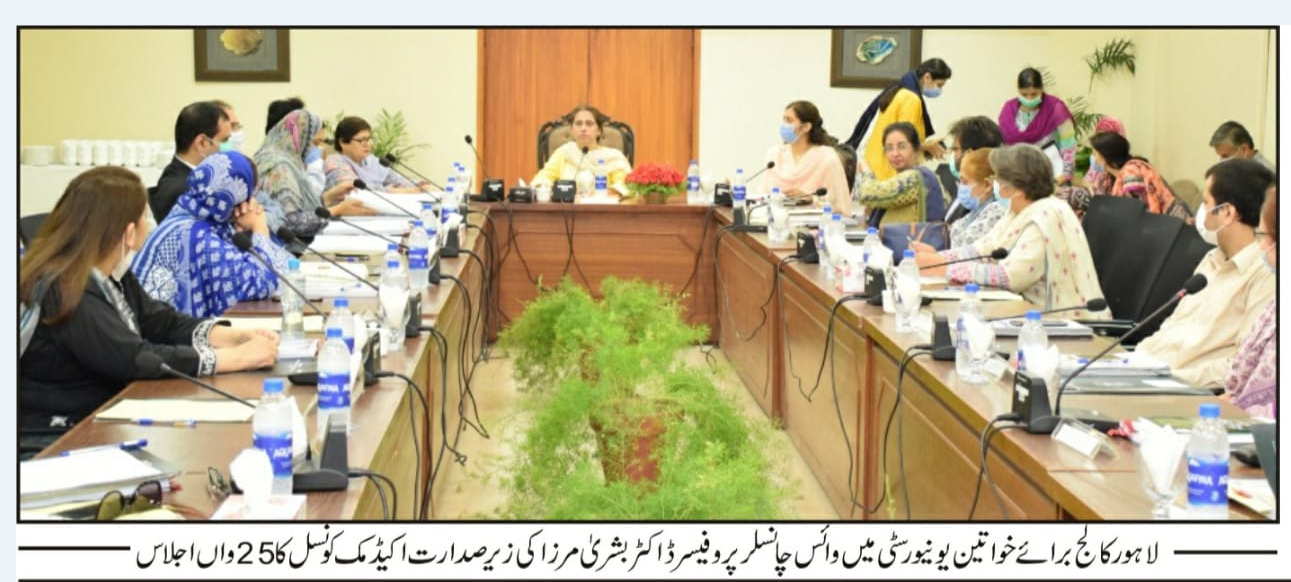 The 25th meeting of the Academic Council was held at Lahore College for Women University under the Chairmanship of Vice-Chancellor Prof. Dr. Bushra Mirza. The meeting was attended by Deans, Directors, Heads of Departments and representative of the HED.
On the Direction of the Chancellor of the University, Governor Punjab Chaudhry Muhammad Sarwar Academic Council approved teaching of the Holy Quran with translation mandatory for all the university students. Quran education will be a part of the curriculum at both the undergraduate and masters level.
The new academic programs approved included Doctor of Physical Therapy, BS Software Engineering, B.ED.1.5 years in Government Post Graduate College Samanabad Lahore.
Phd, MBA program with specialisation in Human Resource Management, Marketing, Finance, Tourism, Hospitality Management, Entrepreneurship and MBA Executive under the Department of Management Sciences were also approved. Diplomas & shorts courses in various disciplines along with special Zia-ud-Din Babri Medal in the program of Pharm D were also approved.
The Academic Council of the Lahore College for Women University also approved the Recommendations of the last meeting of the Board of Advanced Studies and Research.
Addressing the meeting, Vice-Chancellor Prof. Dr. Bushra Mirza said that the 4-year BS Software Engineering Program, Doctor of Physical Therapy Program, and MBA in different specializations needed for the time.
Dr. Bushra Mirza added that Lahore College for Women's University is playing its role in making female students an active member of society. She congratulated the IT team on the achievement to receive 18,000 forms at the intermediate level in current online admissions. Last year, 6,000 applications were received for intermediate admissions.
In last, she added that for the first time in the history of Lahore College for Women University, online admission has been conducted and the receipt of such a large number of applications is an expression of the confidence of the students in the online system.