Department of Mass Communication, LCWU organized a seminar on Kashmir Solidarity Day

Lahore: Department of Mass Communication, Lahore College for Women University (LCWU) organized a seminar as an indication of solidarity with the people of Indian occupied Kashmir in their legitimate struggle for right to self-determination on Tuesday morning. Ms. Mushaal Hussain Malik, Chairperson Peace & Culture Organization and wife of detained Kashmiri leader Mr. Muhammad Yasin Malik, Prof. Zafar Iqbal Sindhu, Writer and activist, Rai Muhammad Nawaz Khan Kharl, Chairman Kashmir Commission of Pakistan and Dr. Anjum Zia HoD Deptt. Of Mass Communication LCWU while expressing tribute to the unparalleled commitment of the Kashmiris for the attainment of the legitimate right to self-determination, highlighted grave human rights situation in the occupied valley and genocide being committed by Indian occupation forces.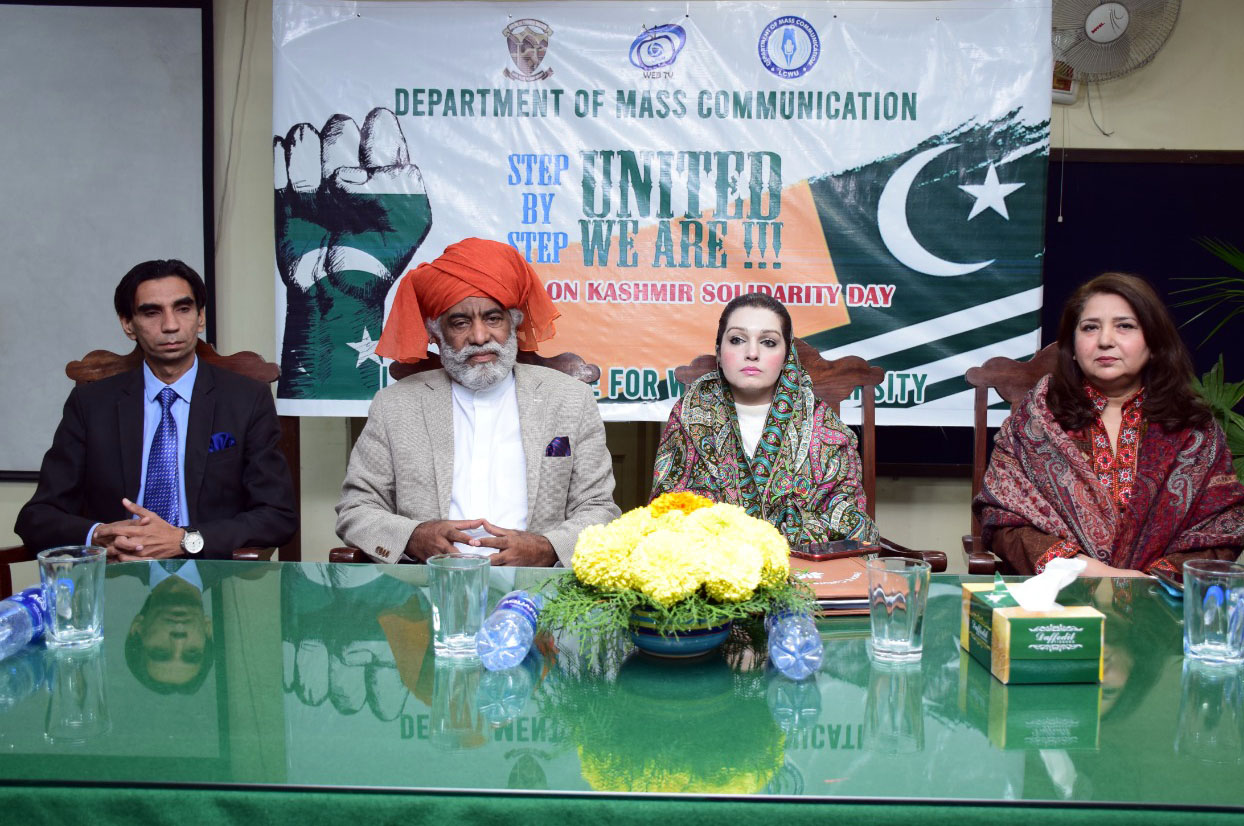 Every year, February 5 is observed as a day of solidarity with Kashmiris. This year and year 2020, however, it comes after India stripped the region of its special status and imposed a lockdown. The Indian government had on August 5, 2019, repealed Article 370 of its constitution, stripping occupied Kashmir of its special status. It also divided up occupied Jammu and Kashmir into two union territories; one Jammu and Kashmir, and the other the Buddhist-dominated high altitude region of Ladakh. The bifurcation of the territory came into effect on October 31 2019.

Mr. Rai Muhammad Nawaz Khan Kharl, Chairman Kashmir Commission of Pakistan said that Kashmir was not an internal issue of India rather its solution was mandatory for regional stability and global peace. "Pakistan is stick on one stance and current government whole-heartedly supports the Kashmiris," he opined. He said the sacrifices of Kashmiri people will not go in vain and they will see the dawn of independence one day.

Ms. Mushaal Hussain Malik, Chairperson Peace & Culture Organization was of the view that Kashmir was not internal problem of India but it was an international dispute. She said that the story of Kashmir was the story of Indian repression and conspiracies.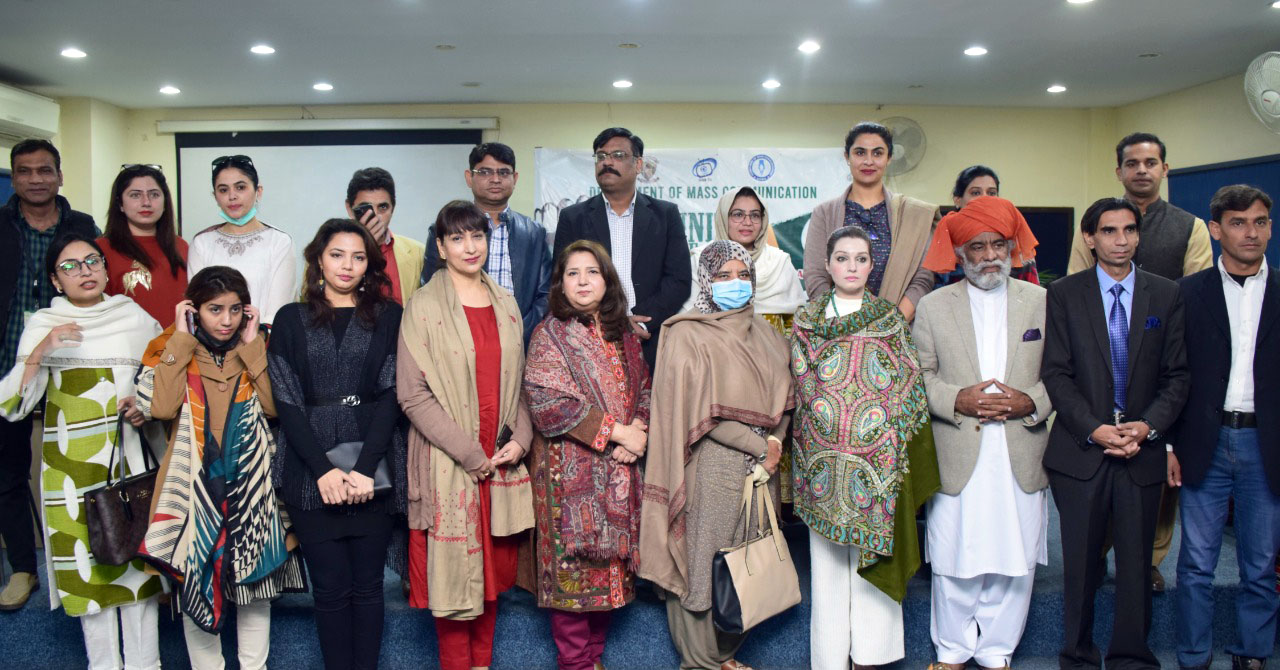 Speakers regretted the silence of international human rights organizations on the situation in occupied Kashmir. Prof. Zafar Iqbal Sindhu,said the blatant human rights violations there were not tolerable to the Pakistani nation. "Kashmir is an unfinished agenda of partition, which has created instability in the South Asia since both India and Pakistan are the nuclear powers, So global community must take it seriously".

Moreover, Mr. Zafar Iqbal praised the efforts of Prof. Dr. Bushra Mirza, Vice Chancellor LCWU, for raising voice for Kashmir issue, in this connection different events including a recent webinar organized by LCWU under the patronage of Dr. Bushra Mirza was a successful attempt to raise voice for Kashmiries.

Dr. Anjum Zia, HoD of Mass Communication Department said that India should stop denying ground realities, must come out of illusions and accept the fact that it cannot suppress the voice of Kashmiris with brute force and conspiracies. She further criticized the Indian media for being obsessed with enmity of Pakistan. A strict lockdown and communications blackout has been in place in occupied Kashmir since August 5, 2019. Forcing people offline has crippled the economy and made it impossible to pay utility bills, make applications or just send a message to family outside the stricken zone , now we can well imagine the atrocities of locked down after being in locked down for few days due to pandemic.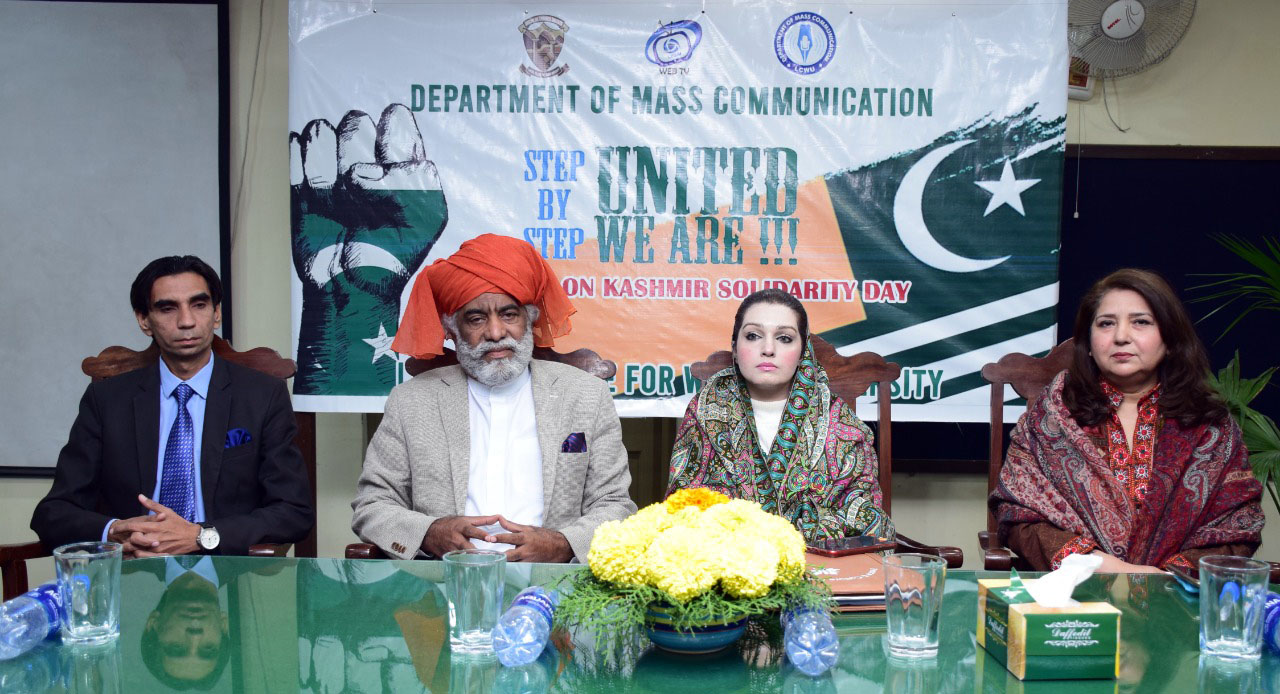 In her concluding remarks, Dr Anjum Zia expressed her solidarity with the people of Kashmir and thanked the participants. Kashmir is the jugular vein of Pakistan and the prevailing situation demands unity in ranks of people from all walks of life to effectively and forcefully raise the plight of Kashmiri people at international level, said Dr. Anjum Zia. The seminar was attended by a large number of teachers and students of LCWU and media persons.