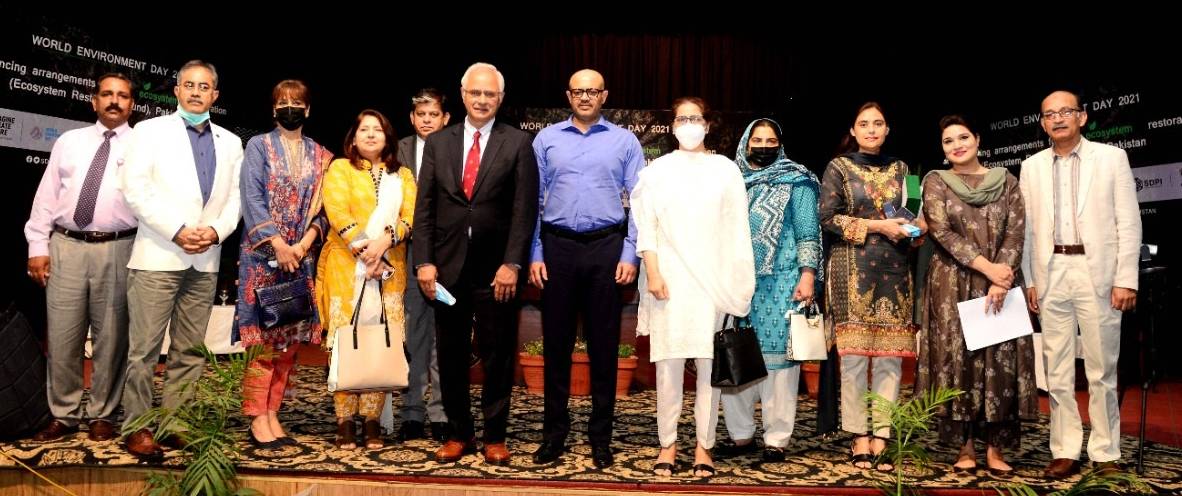 A seminar on 'Financing arrangements for ecosystem restoration in Pakistan' was held at the GC University Lahore under the auspices of Sustainable Development Policy Institute (SDPI) in connection with the World Environment Day 2021. The seminar was organized in collaboration with Lahore College for Women University,  the United Nations Environment Programme and the Government of Pakistan.
Finance Minister Punjab Mr. Makhdoom Hashim Jawan Bakht joined the seminar as CHIEF GUEST. The Seminar was graced by various personalities from government and educational sector such as Special Assistant to Prime Minister on Climate Change Mr. Malik Amin Aslam, Provincial Minister for Environment Muhammad Rizwan, SDPI Executive Director Dr. Abid Q. Suleri,  Vice Chancellor of LCWU Prof. Dr. Bushra Mirza , GCU SDSC Director Prof. Dr. Faiza Sharif, LCWU Environmental Sciences Department Chairperson Prof. Arifa Tahir, and SDPI Research Fellow Dr. Shafqat Munir and Director Advocacy & Campaigns Moazzam Sharif Bhatti also addressed the seminar, and called for the use of technology and public private partnerships to work to restore the ecosystem.
Public service messages about climate change made by the students of different universities were also broadcasted at the seminar.