Social Work Department arranged a seminar regarding "Diamond Jubilee of Pakistan" on the topic of "Struggle and Sacrifices at the time of Pakistan Movement" in collaboration with Directorate of Faculty Development and Initialization on 20th October, 2021 at Student Services Center, Lahore College for Women University. The details of seminar are given below:
The event was attended by large number of students along with the faculty members. While addressing to the audience as Guest Speaker, Mr. Muhammad Abu-Bakar (Chairman Pakistan Youth Parliament) discuss the sacrifices for Pakistan. He discusses all the sacrifices that our ancestors did.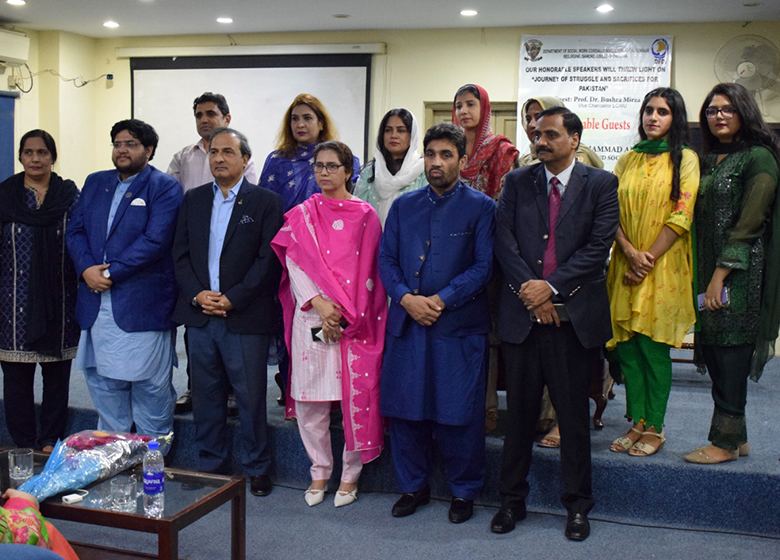 A girl from 5th semester sang a Mili Song.
Than Second Guest Speaker, Mr. Salman Abid (Political Analyst and Journalist) talked about the role of media in Pakistan Movement. He talked about how media played its parts by raising the spirit in people for separate land.
Furthermore,a third Guest Speaker, Air Commodore (R) Mr. Khalid Chishti (S.I) M, (S.B) discussed about the struggle of Political Leaders for Pakistan. He talked about how Quaid-e-Azam and other political leaders sacrificed their properties and lives for the sake of independence.
In the last, worthy Vice Chancellor Prof. Dr. Bushra Mirza of LCWU, gave a note of thanks.
Then Souvenir were distributed among Guests. Guests were served with refreshments. 
Minutes of the Event:
Aware audience about the struggle and sacrifices of our Ancestors.

Aware audience about the Role of Media and Role of our Leaders at the time of Pakistan movement.

Aware audience about how we get this homeland with so much struggle and hard work.

Aware audience that how to work hard and develop this country.