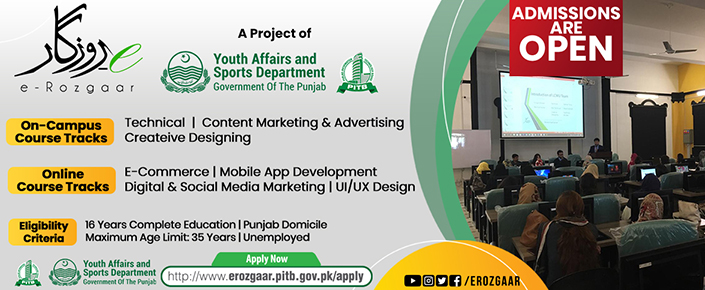 Admissions for On-Campus/Physical Training of Erozgaar for Lahore College For Women University are Now Open! 
e-Rozgaar Training Program is a flagship project of the Youth Affairs & Sports Department and Punjab Information Technology Board to empower the youth in digital skills and freelancing through 3-months free of cost training so young people can earn doing freelancing from the ease of their home. 
e-Rozgaar Offers On-campus/Physical. 
Admissions for the next batch of e-Rozgaar Training Program are open. Interested candidates meeting the following eligibility criteria can apply 
- 16 years of education
- Punjab Domicile
- Maximum age limit: 35 years
- Employment Status: Unemployed 
Following Courses are offered in On-Campus/Physical Training Mode;
1. Technical
2. Content Marketing & Advertising
3. Creative Design 
Apply through:e-Rozgaar website: www.erozgaar.pitb.gov.pk